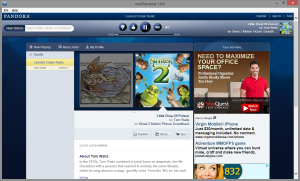 miniPandora is a mini browser for Pandora.com music service.
miniPandora lives in your Windows systray and gets off your taskbar while still playing music!
Best of all, miniPandora is FREE!
miniPandora works on
Windows 2000, XP, Vista, Windows 7 and Windows 8 (32-bit and 64-bit).
Please donate, if you like miniPandora to keep it FREE.
Many thanks to the guys at Pandora.com and the Music Genome Project for an awesome service!
Please note – we are not officially affiliated with Pandora.com in any way so we cannot do any tech support for their service. If you're looking for help, visit their website at http://www.pandora.com/